Welcome
I invite you to join with me in your journey of creating meaningful change in your life.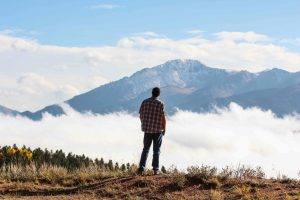 We all face difficult life challenges at some point, and receiving compassion and support can make all the difference. I offer a hopeful, warm and encouraging, down-to-earth approach to therapy. I will meet you where you are in your life and work with you in a nonjudgmental way to create a trusting relationship. Therapeutic interventions are rooted in respect, acceptance and validation to facilitate successful navigation of challenging life circumstances.
Whether you or a family member have encountered a recent challenge that has led you "off course" or if you have experienced a lifetime of pain, we can work together to develop healthier patterns of thoughts, feelings, behaviors and interactions to increase inner peace. I will support you in reaching your own definition of success.
---
Please contact me to schedule a free initial telehealth consultation.
719-360-0802     |     Send Email      |      Online Sessions Available
---
Expecting?
People often consider going to therapy before they make a major life transition, such as getting married or changing careers. But what about when a huge life change occurs such as parenthood? Women, who are advised to take care of their health through exercise and diet while they are pregnant, don't always think of psychotherapy as an important part of their prenatal care, but it can be helpful to the well-being of mother and baby, both during and after pregnancy. Motherhood is an identity shift and it can bring about complex feelings. Some expecting mom's worry about the impact motherhood will have on her marriage, finances and friendships. Therapy can provide a nonjudgmental and supportive space where new moms can talk openly about taboo subjects like fear and regret or any other concerns.
The Benefits of Therapy
Psychotherapy can be an effective tool in providing you with the necessary support and guidance to overcome the challenges you face. The problems you are currently grappling with don't have to define you, nor do they have to be the last page of your life story. If you are committed to your therapeutic process, honoring your strengths and what is right for you can create a life that is rewarding, fulfilling and productive.
Therapy is a process of reflecting on your past while staying grounded and mindful in the present, as you move forward. Many studies have shown that psychotherapy is an effective tool to enhance the overall quality of your life. If you are feeling stuck in your life, want to share your experience or want support in focusing on you, we can work together to explore your core issues and desires to move toward the life you want to create.
I tailor my treatment approach according to your unique personality, situation and needs. With honesty and compassion, I will work with you to create a safe atmosphere where can safely express your thoughts and feelings. The focus of our therapy sessions together will be to help you reach your desired goals. Additionally, I invite you to work on the skills of mindfulness and self-compassion, which may allow you to move through difficult times in the future and experience happiness in your life.
"Your present circumstances don't determine where you can go; they merely determine where you start."

– Nido Qubein